Epping Child Care Centre

This small boutique childcare centre in Epping, accommodates up to 38 children and is a perfect centre for most families.

Our long-standing and dedicated staff create a wonderfully safe and nurturing environment encouraging play-based learning and hugely interactive sessions with all our kids.

With parent engagement and support, we are able to gradually build confidence in all our children, allowing them to grow and develop in fun, new and stimulating ways.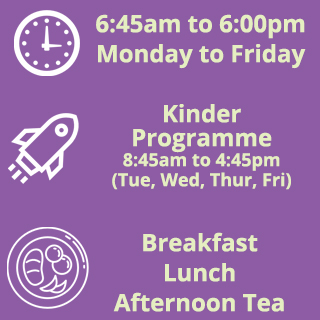 Epping Child Care Location: 411 Dalton Road, Epping and we're only 600m from the train station & 180 metres from the bus stop, plus we have drive in access with easy parking! See our map location below. Phone: 9401 1730
A supportive environment promoting growth and individualism
Number of children we accommodate for at our boutique child care centre Epping
Read what our happy parents are saying about Future Super Stars:

"Our eldest has been in the centre for 4 years and Future Superstars showed its continuous effort to provide a clean, systematic, and encouraging environment for learning. Now we are sending our youngest too!"
Jen  – Epping

"Thank you so much, I am really pleased and impressed with the way my daughter has settled in, she just loves being there!"
Linda – Epping

"We would like to take this opportunity to thank Janine and all the teachers at Future Super Stars, Epping for looking after our daughters. We are very happy with the service and the care provided over the years. Florence and Hannah had a great time and they were always excited to attend the care. Thank you, Janine, for being so flexible and accommodative, you were there when we needed extra days care on a very short notice.
Keep up the good work.Would definitely recommend Future Super Stars, a great place to send your kids."
Vishaal & Josephine – Epping
Our Awesome Child Care Key Staff Members

Rhiannon – Director:
Rhiannon has been in the Early Childhood Sector since 2009. Over this time, Rhiannon has held roles such as Room Leader, Relationships Leader, Assistant Director, Director, and Area Manager.
Rhiannon has continually studied in the Early Childhood Field, obtaining her Certificate 111, Diploma, Advanced Diploma and Certificate IV in training and Assessment.
Rhiannon has a strong passion for Early Childhood and believes that all children, families, and the wider community should feel a sense of Belonging, Being and Becoming. It is Rhiannon's aim as an Early Childhood Professional to provide an environment that is safe, secure, caring and a place that feels like home.
Excellence is a term Rhiannon believes in to the fullest and she prides herself on building positive and respectful relationship with all people that I meet.

Melinda – Assistant Director:
Melinda has been in the Early Childhood sector for the last 20years in both QLD and VIC.
Melinda holds a Diploma in Children Services. Melinda joined the team at Future Super Stars as an Educational Leader and Assistant Director in 2020.
As a parent of a young teenager, Melinda is very passionate about the importance of Quality Childcare and the need for Early Childhood Learning which is critical in the development of a child in their formative years.

Our Philosophy

Our Curriculum

FAQS & Links
Contact Future Super Stars Child Care Centres
Future Super Stars Sunshine West
11 Simmie Street,
Sunshine West, Victoria
Future Super Stars Epping
411 Dalton Road,
Epping, Victoria
Future Super Stars Sunshine North
9 Suffolk Road,
Sunshine North, Vic.