Sunshine West Child Care Centre

This modern and newly built child care centre in Sunshine, is a small boutique centre which accommodates up to 40 children and is a perfect centre for most families.

We focus on creating a nurturing and safe environment for all our children encouraging individualism and growth in a play-based learning environment.

With parent engagement and support, we are able to gradually build confidence in our kids, allowing them to grow and develop in fun, new and stimulating ways.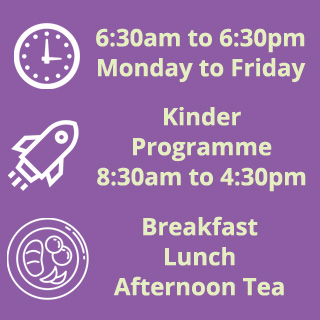 Sunshine West Child Care Location: 11 Simmie Street, Sunshine West and we're only 1.5km's from the train station & 100 metres from the bus stop, plus we have drive in access with easy parking! See our map location below. Phone: 9041 1881
Designed with our future superstars in mind – The power of play
Number of children we accommodate for at our boutique child care centre Sunshine West
Read what our happy parents are saying about Future Super Stars:

"Thank you to Future Super Stars Sunshine. We are impressed with the way your staff care for our boys Owen & Lenny and we feel comforted that they are safe and happy there."
Anton & Mel – Sunshine

"Amelia loves to be with her educators, which really shows the bond they have built. Really, really positive."
Shahrin – Sunshine
Our Awesome Child Care Key Staff Members

Chloe – Director:
Chloe has been in the Early Childhood sector since 2008, over this time, Chloe has held roles such as Group Leader, Education Leader, Accreditation and Compliance officer, Assistant Director and Managing Director and Area Manager. Chloe has continually studied in the Early Childhood field obtaining her Diploma in Early Childhood, Advanced Diploma in Early Childhood and Certificate 4 in training and assessment. Chloe holds a strong passion for Early Childhood and believes that every child is unique in their learning and to promote and engage children so that they can thrive in their learning environments we must provide a range of aesthetically pleasing, sustainable resources that reflect the children's holistic community thus enabling children to feel a sense of security and belonging within our care.

Alex – Assistant Director:
Alexandra has been in the Early Childhood sector since 2015, over this time, Alexandra has held roles such as Group Leader, Assistant Group Leader, Educational Leader, Health and safety representation, Sustainability leader, centre cook and Assistant director. Alexandra is a passionate, energetic, and nurturing team member. Alexandra believes that each child is a unique individual who needs a secure, caring and stimulating environment in which to grow and mature emotionally, intellectually, physically, and socially. It is Alexandra's goal as an educator to help children meet their fullest potential in these areas by providing an environment that is warm, safe, welcoming, educational, supports risk taking, invites sharing ideas and provides the children with a sense of belonging."

Our Philosophy

Our Curriculum

FAQS & Links
Contact Future Super Stars Child Care Centres
Future Super Stars Sunshine West
11 Simmie Street,
Sunshine West, Victoria
Future Super Stars Epping
411 Dalton Road,
Epping, Victoria
Future Super Stars Sunshine North
9 Suffolk Road,
Sunshine North, Vic.